COVID -19 ව්‍යාප්තිය හමුවේ වාර්තාකරණයේදී ආචාරධර්ම පිළිපැදීමට කාරුණිකවන්න…
පවතින කොවිඩ් -19 රෝග ව්‍යාප්තිය හමුවේ සියලු පුවත්පත් තහවුරු කරන ලද නිවැරැදි මූලාශ්‍ර භාවිත කරමින් වාර්තාකරණයේ යෙදීම අත්‍යවශ්‍ය වේ .ඔබගේ වාර්තාකරණය අන් කිසිවෙකු වෙත සමාජීය හෝ පෞද්ගලික වශයෙන් හානියක් නොවන ආකාරයෙන් සිදු කිරීම මාධ්‍යවේදියෙකු ලෙස වෘත්තීය හා සමාජ වගකීම ඉටු කිරීමක් ලෙස සලකමු. වාර්තාකරණයේදී ශ්‍රී ලංකා පුවත්පත් මණ්ඩලයේ ආචාර ධර්ම සංග්‍රහය පිළිපැදීමට කාරුණිකවන්න.
http://sinhala.slpc.lk/images/doc/1981-10-14-Sinhala.pdf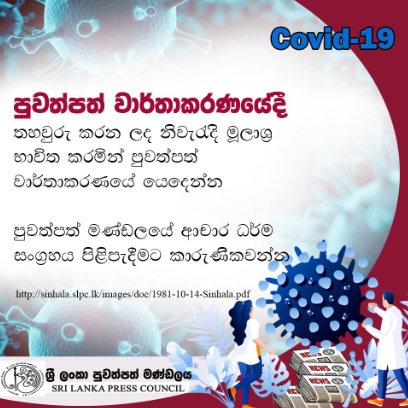 With Regard to selling of unregistered newspapers
Sri Lanka Press Council has become the topic of the day on several occasions during the recent past within intellectual circles referring to the Right to Information and press freedom, which created a huge social uproar fuelled by the comments of print and electronic media channels. Thus the need has arisen to outline the pathway of the Sri Lanka Press Council and its present role. Sri Lanka Press Council has been first established as a Statutory Board on 14th June 1973 as per the Regulations of the Press Council Act No 05 of 1973 under the purview of the then Ministry of Information and Broadcasting. Its present Line Ministry is the Ministry of Mass Media.
---